We're always chasing those moments. Moments when it feel like you could ride forever, when it feels like you're part of nature, when the fresh air, stunning landscapes and a sense of achievement fill your senses. Moments when your family can all explore a new place together without stressing about traffic, red lights and when your next meeting is. You can find these moments, and so much more, when cycling in the Snowy Valleys.
View Listings
We have the perfect places for you to get off the clock, connect with nature and enjoy that amazing feeling that riding a bike in a beautiful place brings.
With quiet roads, wicked trails, cruisy paths and a variety of cycling options, we're certain that if you like riding bikes, you will want to be here.
Mountain Biking
The Snowy Valleys region has hundreds of kilometres of trails winding through native and plantation forests and open country.  In our region you can experience stunning views on trails suitable for the whole family, or for the more adventurous, find that challenging downhill run or technical climb that would test the skill of the most experienced rider.
Thanks to the efforts of committed locals and supporting organisations, the Snowy Valleys boasts a high quality and growing mountain bike network, with most trail networks centred around Tumbarumba, Tumut and Kosciusko National Park.
Tumbarumba
Cycle Tumbarumba have established a top-class Mountain bike trail network with a wide variety of trails and great opportunities to build your skills while exploring Tumbarumba's natural beauty. All Tumbarumba trails are within an easy ride from the town centre so you are never far away from that all-important coffee and snack.
Here are the trails you can ride in and around Tumbarumba:
Policeman's Paddock: a 2.7km cross country trail on the eastern edge of town.
Old Town Common: a 2.5km cross country loop with heaps of fun jumps and climbs. Note: a new section of trail is set to open soon in this area.
Mason's Hill:  a cross country trail network featuring a 9.5km beginner friendly loop with a sensational 3km flow trail descent.
Check out maps and profiles of the Tumbarumba on Trailforks here. If you need more information on Mountain biking in Tumbarumba, have a chat to Cycle Tumbarumba.
Tumut
The Tumut MTB Park has four trails to discover ranging from intermediate to advanced riding skills. Located close to town, these trails offer a wide variety of terrain for all levels. Each trail starts from the dirt road intersection close to the parking area off Sydney Street.
The Tumut Enduro 3 hour race showcases the Tumut recreational Trails. This adrenalin charged annual event is run in conjunction with the Festival of the Falling Leaf each April. This all ages, all skill levels race is a great local event showcasing some of the region's best cross country trails.
If you need more information on Mountain biking in Tumut, have a chat to MTB Tumut.
Kosciuszko National Park (North)
Kosciuszko National Park has some of the most scenic and challenging mountain bike trails. This northern section of Kosciusko National Park has nearly 240km of rideable fire trails. Ride to pioneer huts or test yourself on some adrenalin charged descents.  Whatever your pace, make sure when in the Park to ride only on management trails, not walking tracks.
For more information follow the link to the Department of Environment, Climate Change and Water website or the NSW Forests website.
http://www.environment.nsw.gov.au/NationalParks/parkHome.aspx?id=N0018
or
http://www.dpi.nsw.gov.au/forests/recreation/snowy
Road Cycling
Every cyclist dreams of riding on a smooth, quiet road through stunning valleys and welcoming towns. These moments abound in the snowy valleys.
Set in the foothills of the snowy mountains, we have a uniquely varied and quiet setting for road cyclists of any skill level. With amazing climbs, excellent roads, stunning scenery and hardly any traffic, the Snowy Valleys is a cyclists dream.
Two new and highly successful road cycling events have showcased the quality of riding the region contains. The Tumut Cycle Classic highlights the riding in and around Tumut and the Snowy Valleys Cycle Challenge features a return route between Adelong, Wondalga, Batlow and Tumbarumba.
The reality is, no matter where you are in the snowy valleys, you are not far from a great ride. Here are some rides that locals love to get you started, organised by town.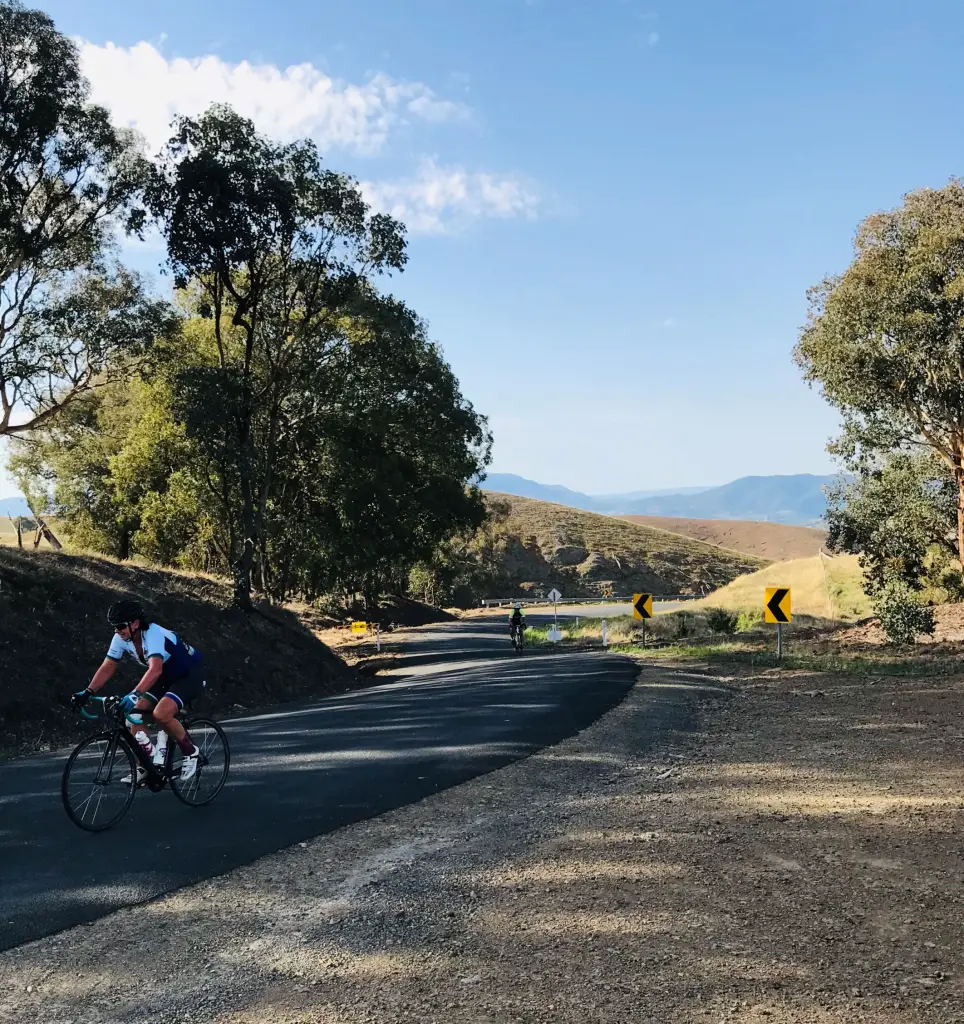 From Tumbarumba:
Courabyra Road Loop (27km)
Rosewood Loop via Taradale Road and Glenroy Road (50km)
Jingellic return (86km)
Tooma return (80km)
Cabramurra return (140km)
Corryong and Khancoban loop (170km)
From Tumut:
Blowering Dam Wall Loop (40km)
Tumut Cycle Classic route – including Blowering Dam Wall, Tumut Plains, Lacmalac and Wyangle Hill (100km)
Adelong loop via Wondalga (55km)
Batlow return (66km)
Talbingo return (80km)
Wee Jasper return (140km)
Who to contact for help
If you want to know more about Road Cycling in the Snowy Valleys, have a chat to Ground Up in Tumut or contact Cycle Tumbarumba.
A family that rides together, stays together. That's why we have great family cycling options in the Snowy Valleys, and we are building even more.
There's no better way to see a town or area than on a bike. It's even better when you can do it as a family. Our towns and villages include some great rides around town, rides to explore natural attractions and places to build your skills, like pump tracks and skate parks.
Here are some great rides that the whole family can get out on in our region:
Tumut River Walk
The Tumut River Walk is open to recreational bike riders and it meanders through Tumut's parks alongside the river.  There are several access points to the walk so you can make it as long or as short as you like. The walk connects to The Tumut Wetlands, home to many species of bird. The Stockwell Gardens Park Walk offers one of the most picturesque parks in Tumut. The pathways wind through beautiful gardens with a stunning array of flower beds, Elms, Oaks, Maple and Pine trees.
Check out the River Walk (North) and River Walk (South) maps here.
Adelong Falls Walk
The Adelong Falls Walk is also open to recreational bike riders and it meanders through alongside the river to the Adelong Gold Mill Ruins.
Tumbarumba Town Trails and Pump Track
Tumbarumba boasts a healthy network of walking and bike paths right across the town, including alongside the creek, around the sporting fields, to the showgrounds and the shops.
Tumbarumba's Pump Track provides a great opportunity to develop kid's bike skills on a professionally designed track featuring rollers, jumps and sweeping turns. Since its opening in late 2018, the pump track has been a big hit with local and visiting kids alike. For the kids that love a bit of BMX action, the Tumbarumba skate park also often hosts local kids practicing their jumps and tricks in the bowls on scooters or BMX bikes.
Our bike shops Ground Up in Tumut and Tumut Toyworld provide high quality bike maintenance services and sell a wide range of cycling products.